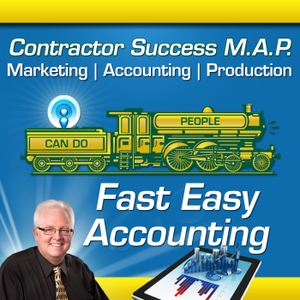 Contractor Success Map with Randal DeHart | Contractor Bookkeeping And Accounting Services
By Randal DeHart | Construction Accountant |PMP | QPA
What's Contractor Success Map with Randal DeHart | Contractor Bookkeeping And Accounting Services about?
Back office support can make or break your contracting company and that is where we come in. We can move your contractor bookkeeping service off the roller coaster of pain onto the merry go round of peace of mind.
Most of our clients come to us because they need help in one or more of these six areas:
1. QuickBooks setup for construction was wrong
2. QuickBooks clean up to make the check register match the bank statement
3. QuickBooks Receivables and Payables are not accurate.
4. Job Costing Reports did not make sense
5. Invoicing customers and getting paid
6. Getting caught up on back tax returns
Once we have your contractors bookkeeping issues under control you will be able to focus your time and energy on understanding financial and job costing reports and making money.
Listening to The Contractors Success M.A.P. can help you overcome the challenges of Marketing, Accounting and Production by focusing on the keys to unlock your contracting company's natural inclination to generate consistently high cash flow and profits. Because your contracting company wants to generate passive income streams so you can have the freedom to do what you really want to do with your life.