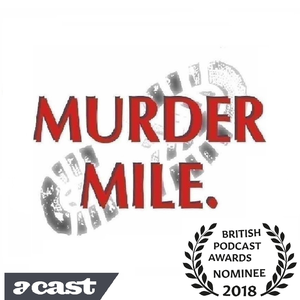 This is Part Four of Four of Daniel Gonzales: The Lost Boy.
Whether in the grip of a drug-induced psychosis, a psychopathic fantasy or paranoid schizophrenia, Daniel Gonzales had left two injured and four dead in a two-day killing-spree. But with a kill-list of "at least ten", the next life he would take would be his last.
Murder Mile is researched, written and performed by Michael J Buchanan-Dunne of Murder Mile Walks with the main musical themes written and performed by Erik Stein and Jon Boux of Cult With No Name with additional music, as used under the Creative Commons License 4.0 (Attribution) via Free Music Archive and YouTube Music. A full listing of tracks used and a full transcript for each episode is listed here and a legal disclaimer.
TICKETS TO CRIME CON UK 2021 Go to Crime Con UK website www.crimecon.co.uk Enter code MILE for 10% off and get a free Murder Mile goodie.
FOLLOW US HERE: Facebook Twitter Instagram Murder Mile Discussion Group Youtube
SUPPORT THE PODCAST: Support us via PATREON. Buy Merch in THE SHOP Free Goodies HERE Support this show http://supporter.acast.com/murdermile. See acast.com/privacy for privacy and opt-out information.