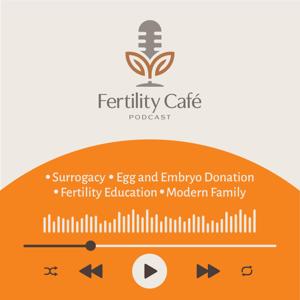 Fertility Cafe
By Eloise Drane
What's Fertility Cafe about?
Who knew making a baby could be so hard?! Luckily, the fertility journey isn't meant to be traveled alone. So grab a seat and let's talk fertility and alternative family building with leading industry expert Eloise Drane here at Fertility Café!
Fertility Café is here to support, encourage, and educate, anyone seeking to start or complete their family and the selfless women willing to help . This weekly podcast discusses all aspects of the fertility journey experience, emphasizing alternative family forming methods. Explore modern family building through IVF, surrogacy, and egg donation, sperm donation and embryo donation . Whether you're a straight couple, LGBTQIA+, single individual or anything in between, considering egg donation, thinking of becoming a surrogate, or dealing with infertility, you'll receive insider information.
Each week, join in-depth conversations that explore these methods from medical, legal, and financial standpoints. Learn how to empower yourselves when dealing with infertility and the unknowns of how to complete your family building. Gain understanding on how to become a surrogate or an egg donor and what you need to consider when you make your decision.
In addition to finding the best third-party providers and appropriate fertility solutions for you, learn about fertility awareness, the questions to ask and what steps you need to take to make the right decisions for you. There is so much information out there. How do you know what is fertility fact versus fiction. You'll receive advice and tips on how to navigate the world of fertility options.
Listen to fertility experts and medical practitioners as they impart valuable wisdom about all kinds of issues related to your fertility to include unexplained infertility, fertility preservation, PCOS, and fibroids to name a few. Their professional guidance is your best bet in increasing the likelihood of getting pregnant without fearing for your health or breaking the bank.
This show is also for fertility professionals who want to widen their knowledge and expertise. By listening to fellow experts, discover brand-new information to share with your patients and improve your practice.
Host Eloise has helped hundreds of people build (and grow) their families over the last 20 years. She always speaks candidly about the processes involved in making the dream of a baby a reality right now. Eloise helps individuals become surrogates and egg donors through Family Inceptions, an agency she founded in 2008. She highlights the importance of ethical and transparent practices.
Above all, Eloise makes sure that young women who donate eggs or become surrogates are properly educated and empowered. Her reputation makes Eloise a top speaker and guest in many assisted reproduction technology events and shows. Her story and agency were even featured by OWN: The Oprah Winfrey Network.
Eloise is not only a guide to surrogates and donors; she has been an egg donor six times and a gestational surrogate three times. She is a happily married mother of five who spends most of her free time with family.
Failing to get pregnant should never lead to a life of regret, self-pity, and hopelessness. With egg donation, surrogacy, and medical advancements focused on fertility, your fight is far from over. You are not a lost cause. What you need is proper information, practical tips, and valuable insights on addressing your reproductive issues. Explore all this and more on the Fertility Café.
Listen to the podcast right now at https://familyinceptions.com/fertility-cafe