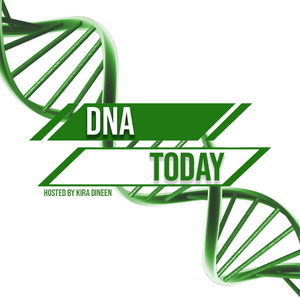 Listeners, I have a big favor to ask from all of you. The Podcast Award nomination season has begun! It's a people's choice type of award. In order to be in the running I need listeners like you to nominate the show. DNA Today was nominated back in 2015 and 2016. It would be such an honor to be nominated again.
In order to be in the running though, I need 2 minutes of your time. It's very simple…
Go to PodcastAwards.com and enter "DNA Today" for the Science and Medicine category. That's it!
Now this closes July 31st, 2019. Don't forget, if you can please go nominate the show if you enjoy listening! It really helps to increase visibility so other people can also benefit from learning through the show. Thanks in advance! I really appreciate the support for the show.
The opioid epidemic has had a major impact in the US, among other countries. In 2017 more than 47,000 Americans died of opioid overdose. And currently, everyday in the US 130 people die from opioid overdoses. To shed light on this epidemic scientists from the Camden Opioid Research Initiative share their project with a focus on the genetics of opioid addiction susceptibility.
The Camden Opioid Research Initiative has a three pronged approach as outlined below.
1) A biobank for blood and brain samples taken from people who have died from overdose as well as family members who are interested in donating.
2) A prospective clinical study of chronic pain patients to determine the interplay between genetic and biological risk factors for opioid addiction.
3) A clinical study of people currently being treated for opioid addiction to investigate what treatments work best for different genetic makeups.
Three scientists from the project join me:
Dr. Stefan Zajic, the scientific lead on the project.
Dr. Kaitlan Baston, the director of Addiction Medicine at Cooper University Health Care.
Dr. Russ Buono, a Professor of Biomedical Sciences at Cooper Medical School of Rowan University.
On This Episode We Discuss:
-Types of Genetic Testing for Opioid Susceptibility
-Non-Genetic Factors to Opioid Dependence
-Brain Biobank of Opioid User Tissues
-Brain Differences of Opioid Users
-Potential Uses of Opioid Genetic Research
Stay tuned for the next new episode of DNA Today. New episodes are released on the first Friday of the month. With a few bonus episodes here and there. See what else I am up to on Twitter, Instagram, Facebook and iTunes. Questions/inquiries can be sent to Kira Dineen at info@DNApodcast.com.