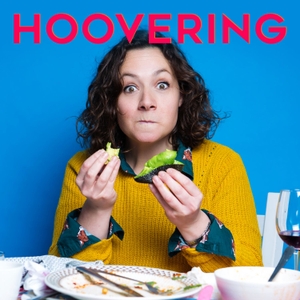 Hoovering - Episode 171: Andrea Thompson
05.20.2021 - By Hoovering
Welcome to HOOVERING, the podcast about eating. Host, Jessica Fostekew (Guilty Feminist, Motherland) has a frank conversation with an interesting person about gobbling; guzzling; nibbling; scoffing; devouring and wolfing all up… or if you will, hoovering.
There's no overly complicated way to put this really. In this episode I'm hoovering with the strongest woman in the world. Andrea Thompson. She's British, she lives near Ipswich and she's the strongest woman in the whole fucking world. So. We had chilli for lunch because it was what she was having anyway and we got together, for distance reasons, over the zooms. 
Everything written below in CAPITALS is a link to the relevant webpage. 
Honourable Mentions/ Links
Follow Andrea immediately on INSTAGRAM
COME TO HOOVERING LIVE WITH JO BRAND in Soho on 17th July at 5pm. Please. 
Will you come and see me doing Hench ON TOUR? Cool. 
I'm on this great site called PATREON where I swap your money for ace podcast related stuff like totally exclusive content and guest recipes. It'll help me keep the podcast not just alive, but also thriving. Thanks so so so much if you've become a patron recently and/ or stuck with me since the beginning of this. 
Also - if you'd wanted to donate something as a one-off you can DO THAT HERE on the Acast Supporter page thing. 
Things we mentioned that you might be interested in from this podcast include…
The sports festival and famous strongman competition THE ARNOLD
The SAVOY HOTEL with its lonely steak
Legends SINDHU VEE and MAYA ANGELOU
And the sexiest ice-cream ever invented by MAGNUM Support this show http://supporter.acast.com/hoovering. See acast.com/privacy for privacy and opt-out information.