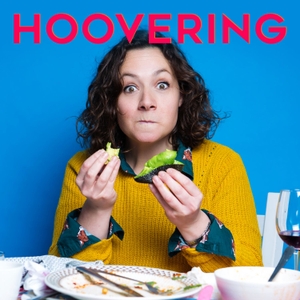 Hoovering - Episode 155: Dr Joshua Wolrich
01.29.2021 - By Hoovering
Welcome to HOOVERING, the podcast about eating. Host, Jessica Fostekew (Guilty Feminist, Motherland) has a frank conversation with an interesting person about gobbling; guzzling; nibbling; scoffing; devouring and wolfing all up… or if you will, hoovering.
I'm seeing this tough old month out with one of the most brilliant, fascinating voices of revolutionary dissent from the horror that is the norm - Dr Joshua Wolrich. He has fishcakes and I have a brownie and we get into everything from the whole world of #nutribollocks a term that he coined to call out all the BS spouted even just by other Doctors about nutrition right through to the equally important topic of where to buy the actual best balsamic glaze. He's got a book out, I had no idea when I booked him to hoover with - but he's got a book out that got announced 48 hours ago and is pre-orderable now - and I reckon once you've listened to this you're going to want to read it. I know I can't wait. 
Everything written below in CAPITALS is a link to the relevant webpage. 
Honourable Mentions/ Links
You can find the excellent DR JOSHUA WOLRICH on the instagrams and God, I mean, I want everyone in the world to read his first book, pre-orderable now, FOOD ISN'T MEDICINE. 
My big news is that there is a HOOVERING LIVE at 2.30pm on Sunday 7th February and it's only a fiver - click on the big words Hoovering Live just there and Patrons, check your messages for freebies and discounts, please. It's part of the brilliant LEICESTER COMEDY FESTIVAL. 
I'm on this great site called PATREON where I swap your money for ace podcast related stuff like totally exclusive content and guest recipes. It'll help me keep the podcast not just alive, but also thriving. Thanks so so so much if you've become a patron recently and/ or stuck with me since the beginning of this. 
Also - if you'd wanted to donate something as a one-off you can DO THAT HERE on the Acast Supporter page thing. 
I got my big beautiful curly cucumber from ODDBOX and if you want one? And you want a massive £10 off your first box so it makes it just a few quid? Then USE THIS LINK MATE
I'm also doing A PREVIEW online as part of the LEICESTER COMEDY FESTIVAL too - also on Sunday 7th Feb but at 6pm. I'd dearly love to have you there at that too?
MY TOUR IS RESCHEDULED - COME! 
Things we mentioned that you might be interested in from this podcast...Support this show http://supporter.acast.com/hoovering. See acast.com/privacy for privacy and opt-out information.