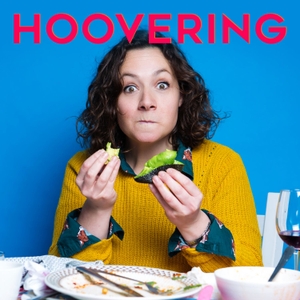 Hoovering - Episode 161: Rukmini Iyer
03.12.2021 - By Hoovering
Welcome to HOOVERING, the podcast about eating. Host, Jessica Fostekew (Guilty Feminist, Motherland) has a frank conversation with an interesting person about gobbling; guzzling; nibbling; scoffing; devouring and wolfing all up… or if you will, hoovering.
This week I'm hoovering with the charming, articulate and insanely talented Rukmini Iyer - chef, food stylist and author of a series of tray bake cookery books that as a collection I'd say I use more than any others. They're exceptional and full of delicious stuff so I was keen as a sausage to pick her beautiful mind, over lunch (a frittata from one of her recipes), as to how she's created so much brilliant eating for so many people. 
Everything written below in CAPITALS is a link to the relevant webpage. 
Honourable Mentions/ Links
If you're not already then follow Rukmini on Instagram immediately she's better known on there as MISS MINIFER
THIS IS WHERE YOU CAN BUY ALL HER AMAZING COOKBOOKS and don't forget to preorder her brand new one out in April called THE GREEN BBQ
I'm on this great site called PATREON where I swap your money for ace podcast related stuff like totally exclusive content and guest recipes. It'll help me keep the podcast not just alive, but also thriving. Thanks so so so much if you've become a patron recently and/ or stuck with me since the beginning of this. 
Also - if you'd wanted to donate something as a one-off you can DO THAT HERE on the Acast Supporter page thing. 
I got my big beautiful curly cucumber from ODDBOX and if you want one? And you want a massive £10 off your first box so it makes it just a few quid? Then USE THIS LINK MATE
Things we mentioned that you might be interested in from this podcast include…
The SUKH OJLA episode of Hoovering
She trained at THE KITCHIN, Tom Kitchin's Michelin starred hit restaurant in Edinburgh.
We toot amazing south east London bakeries, COOPERS in Brockley and BREAD AND BUTLER in Deptford
And last but best Dan Barber's extraordinary book THE THIRD PLATE Support this show http://supporter.acast.com/hoovering. See acast.com/privacy for privacy and opt-out information.