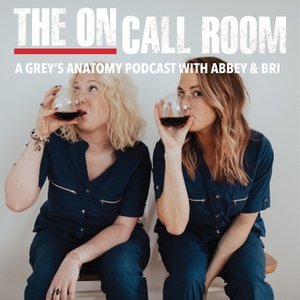 This week we have the LOVELY Catherine scrubbing in. She is a light among us all and she just happens to be Bri's sister. What a JOY.
Her kindness does not dim the drama of these two episodes. Cristina is finally being seen for the surgeon she is, when Teddy wants to leave because...love triangle. Cristina offers Teddy Owen without even thinking! They were both shook.
Chief is drinking, but Bailey thinks he is having an affair with Izzie. That's right Izzie is back trying to mend things, and no one is happy to see her.
Then we have Lexie and Mark. Everyone's favorite relationship, is crashing and burning before our eyes. Why you ask?? Because, these two fools don't know the first thing about communicating.
All this and more when you hit play!
If you don't give a shit about our life updates (understandable) hit play at 32:08 where we start our Grey's discussion.
SPONSORS:
www.thisisaday.com
Use code OnCallRoomxADAY to get 20% off your first purchase!
____________________________________________________________
Become a sustaining member and cohost the show! Follow the link below:
www.patreon.com/theoncallroom