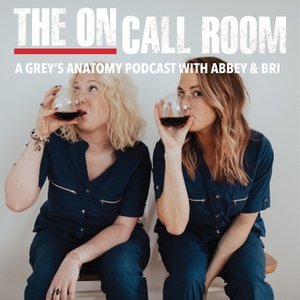 All the GGB's this episode! Both Abbey and Bri cried during this episode, and it makes perfect sense because the Mom who played Beatrice this episode, is the mom in Ladybird. Shout out Laurie Metcalf for giving all the GGB's in every one of your performances.
Abbey went to Hamilton again this weekend, and felt like this time she could truly appreciate it. That is because she has spent most of her time listening to the soundtrack, and could probably recite all the lines. She also ate a lot of seafood, couldn't get drunk, and watched her best friend and husband slowly disintegrate over a bottle of red wine.
Bri slowly disintegrated herself this weekend, as one of her best friends surprised her with a visit from New York. They brunched multiple times, drank too many mimosas, had a sleepover and the ultimate dance party. Both of their weekends were filled with laughter and excitement, separate from each other, so you know there was bound to be some FOMO.
This episode got rated pretty high on the Scalpel Scale, probably because of the tears. Let's be honest sometimes it feels incredible to have a good cry, and Grey's sure knows how to provide. Bailey is being mommy tracked, but is still capable of being a damn good surgeon, even with her increase of estrogen.
George brings the emotions, when he stops Thatcher from running into Meredith. It is in these moments that we see how good George truly is. Even when pissed at Meredith, he is still capable of protecting her. He also finds Callie in her hospital basement apartment, which do not even make us go there. It is a ridiculous plot, and there is no excuse for it.
Cristina is super competitive and Chief...well Chief is still Chiefin it up. Speaking of competitions, in the beginning of the episode did Burke REALLY not know Cristina was trying to explain Madonna?? We want your opinion -- so head over to Patreon and become a sustaining member and let us know what you think!!
www.patreon.com/theoncallroom
www.instagram.com/theoncallroompod