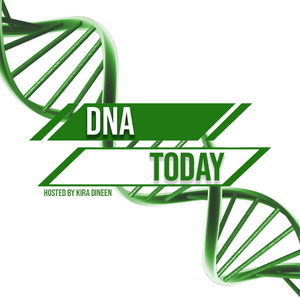 DNA Day and Match Day (for genetic counseling grad programs) are only one week away! To celebrate we have two exciting announcements.
Announcement #1 Our host Kira Dineen will be live on Instagram with Dena DNA on Saturday April 24th, 2021 at 12pmPT/3pmET to celebrate both genetic holidays. Come with your genetics questions including genetic counseling graduate school questions! Head over to our Instagram for more info (@DNAradio), and maybe a giveaway…
Announcement #2 We teamed up with Jackson Laboratories and Million Women Mentors CT to create a resource guide to help students and teachers learn about the importance of genetics in our everyday lives. The guide includes genetics lessons with worksheets to help engage students in genetics. It will be available on Monday April 19th (at DNApodcast.com under the "Resources" tab) in anticipation for DNA Today on April 25th. Join our celebrations on social media using #CTDNADay! 
DNA Day Podcast Recommendation: Stream Episode 46 of DNA Today that celebrates DNA Day including the history of the day, activities, and careers in genetics.
Our guest on this episode is Jo Bhakdi, the founder and CEO of Quantgene. His work in machine learning, sequencing technology, and DNA extraction procedures defines the cutting edge of genomic diagnostics, early disease detection, and precision medicine.
‍
Prior to Quantgene, Jo founded i2X, an investment framework that composes low-risk Venture Capital portfolios across large numbers of technology startups. The i2X platform laid important foundations for advanced analytics in both financial and biotechnology applications, such as the Quantgene machine learning platform.
‍
Bhakdi holds a Masters in Economics and Psychology from Tubingen University, one of Germany's leading academic institutions, with a focus on financial theory and statistics. He kicked off his career at WPP and Omnicom, where he held Strategy and Executive Director positions.
On This Episode We Discuss:
Overview of whole exome sequencing (WES)
Technology for WES
Whole exome sequencing (WES) vs whole genome sequencing (WGS) vs gene panels
When to order WES
Disorders diagnosed through WES
Turn around time for WES results
US insurance coverage and cost of WES
Limitations of WES
Future of WES, possibly replacing newborn screening or whole genome sequencing
Learn more about whole exome sequencing here. You can check out Quantgene through their website.
Stay tuned for the next new episode of DNA Today on May 7th, which launches our Cystic Fibrosis Series in honor of May being the awareness month. New episodes are released on the first and third Friday of the month. In the meantime, you can binge over 145 other episodes on Apple Podcasts, Spotify, streaming on the website, or any other podcast player by searching, "DNA Today". Brand new in 2021, episodes are now also recorded with video which you can watch on our YouTube channel.
See what else we are up to on Twitter, Instagram, Facebook, YouTube and our website, DNApodcast.com. Questions/inquiries can be sent to [email protected]