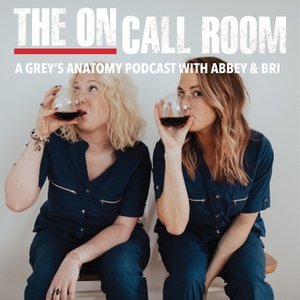 This week Abbey and Bri announce a T-shirt give away. If you missed the opportunity to purchase an On Call Room T-shirt, now is the chance to win one. All you have to do is post a photo of where you listen to the podcast in your feed and tag @theoncallroompod as well as one friend. Make sure to leave a 5 star review as well and maybe you will receive a t-shirt in the mail free of charge!
Cristina finds out Burke won the Harper Avery. It is obvious this is weighing on her, as she excuses herself to the morgue. She proceeds to cut open dead bodies and sing Madonna. She is in a very dark space.
Meredith and Derek continue to work on their clinical trial even though all Meredith can think about is Derek's tongue in her mouth. She seeks out her therapist to give her tools to overcome this. The advice is living in reality. Woof.
They end up loosing another patient, and Meredith wraps up the day as being a good day to her therapist. The therapist calls Meredith out on her bull shit demeanor and Meredith storms out. Classic therapy.
SPONSORS:
www.thisisaday.com
Use code OnCallRoomxADAY to get 20% off your first purchase!
____________________________________________________________
Become a sustaining member and cohost the show! Follow the link below:
www.patreon.com/theoncallroom