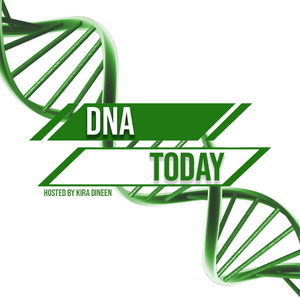 This episode of DNA Today continues our mini series about telehealth in genetics. Last episode we heard from the founder of Advanced Tele-Genetic Counseling, Elizabeth Turner, who shared her expertise in telehealth. Her company provides a scalable telehealth platform for genetic counseling services, where genetic counselors can help patients navigate through areas of genetics like genetic testing, and ultimately understand their own genetics. So if you want to know more about adding the expertise of AT-GC's certified genetic counselors to help support your own practice, reach out through their website at at-gc.com, again that's at-gc.com.
In part two of our telehealth series, Orion Buske, PhD, joins host Kira Dineen to discuss genomic digital tools. Dr. Buske strives to empower patients, doctors, and researchers through new tools and technologies. He holds a PhD in Computer Science from the University of Toronto, where he specialized in algorithms for genome analysis and rare disease patient matchmaking. At various times, he led the technical developments of: PhenomeCentral, the Matchmaker Exchange, PatientKind, and RareConnect.
On This Episode We Discuss:
Inspiration to start PhenoTips
Genomic Health Records
Benefits of Digital Tools for patients and providers
Digital vs paper pedigrees
Auto pedigree builder
Speeding up the diagnostic odyssey
Future of genomic digital tools
Hear more from PhenoTips and our host Kira Dineen through the PhenoTips Speaker Series. This a monthly live webinar where Kira interviews genetic experts about topics and skills specifically for genetic healthcare providers. All previous installments have been recorded and are available on demand here.

Stay tuned for the next new episode of DNA Today on April 2nd! We will be joined by Greenwood Genetic Center to discuss epigenetics including their unique genetic test, EpiSign. Don't miss their bluetooth, noise cancelling headphones giveaway on our Instagram, Twitter, Facebook, and LinkedIn.
New episodes are released on the first and third Friday of the month (with some bonus episodes like this one!). In the meantime, you can binge over 140 other episodes on Apple Podcasts, Spotify, streaming on the website, or any other podcast player by searching, "DNA Today". Brand new in 2021, episodes are now also recorded with video which you can watch on our YouTube channel.
See what else we are up to on Twitter, Instagram, Facebook, YouTube and our website, DNApodcast.com. Questions/inquiries can be sent to [email protected]