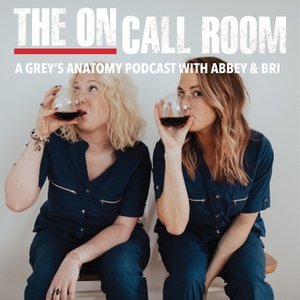 This week Abbey and Bri are taking Trans-Atlantic calls. That's right The On Call Room has ANOTHER guest from across the pond. The delightful Kelly scrubs in for a late night chat with your hosts.
This episode starts with Callie telling George she forgives him. That is a real nail-bitter because it is obvious that was not what George was expecting. The whole episode leads to a cafeteria shakedown between Callie and Izzie. Unfortunately, all Callie wanted to do was speak with Izzie and she turned it into an even bigger humiliating moment for Callie. As if she hasn't been embarrassed enough?
Meredith and Derek are struggling to maintain a healthy break-up space. At the end of the episode Derek tells Meredith he wants a lifetime with her. She isn't ready yet, and he knows it, we wonder will she ever be??
Adele shows up in this episode, so that is unfortunate.
The episode ends with George finding Callie in the rain. He tells her she can't just forgive him. Izzie is crying in her room. What will happen with this love triangle? We all just hope it ends soon.
SPONSORS:
www.thisisaday.com
Use code OnCallRoomxADAY for 20% off your first order! DO IT!
Donate TODAY and receive bonus episodes AND the opportunity to cohost with Abbey and Bri!
Visit:
www.patreon.com/theoncallroom
Also leave a review -- you're already on the page to do it!