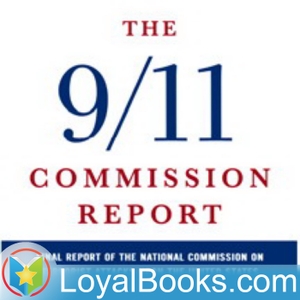 The 9/11 Commission Report by The 9/11 Commission
By Loyal Books
What's The 9/11 Commission Report by The 9/11 Commission about?
Taking the reader back to the horror and devastation of September 11, 2001, the 9/11 Commission Report by the 9/11 Commission, is the official report that presents the final findings of the committee Krean Hamilton Commission (better known as the 9/11 Commission.)
The report reveals not just the events that happened on that fateful day, but also describes the circumstances that led up to it. It analyzes the role of several government agencies in the drama and also pinpoints the lacunae in the system that allowed such events to occur. The terrorist attacks of 9/11 were the most heinous committed on American soil and led to nearly 4,000 deaths, countless injuries, enormous loss of property and forever changed the course of world history.
The Krean Hamilton Commission was set up by President George W. Bush on November 2002 and the final report was released on July 26, 2004. During this period, the Commission examined thousands of people in many countries, went through millions of pages of documents, some of them top secret, and came to some very startling conclusions. Among the statements made by the commission were evidence of lax security, eyewitness testimony of the final moments of the fatal plane crash, and the conclusion that though the terrorists were from certain countries, there was no evidence to prove that they were funded by the governments of those countries. It traces the genesis of the dreaded terrorist organization al-Qaeda and portrays in great detail how they were able to infiltrate the country and plan their operations.
The report directly led to more U.S. emphasis on diplomacy and more counterinsurgency efforts in Afghanistan. Some critics panned the report deeming it merely cosmetic in nature and only skimming the surface of the real issues. Yet the book remains an engrossing and riveting slice of history, which makes interesting reading for both casual readers and those engaged in politics, counterterrorism or diplomacy. It has been authored by several people and far from being a boring tract on administrative matters, is written in a dramatic and lyrical style. It zoomed to the top of the bestseller charts when it was first published and became a contender for the non-fiction prize in the National Book Awards. It has also been adapted for film and television.
One of the notable features is that the point of view contained in this book remains completely neutral and unbiased in spite of the great emotional impact the events depicted had on the psyche of a nation.