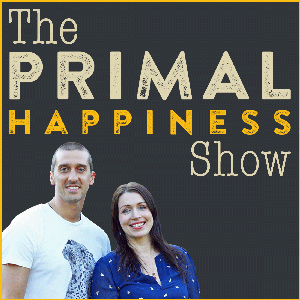 The Primal Happiness Show
By Lian Brook-Tyler & Jonathan Wilkinson: Primal Happiness
What's The Primal Happiness Show about?
[Previously The Born Happy Show] Reclaim Your Primal Happiness and Discover How to Thrive In This Crazy, Modern World.
Want to be happier? Whether you're struggling with insecurity, fear, procrastination, a lack of confidence, anxiety, panic or stress, or you'd just like a happier, more successful, creative, meaningful and fun life... this is the show for you!
The Primal Happiness Show is about 'Primal' meaning intrinsic, fundamental and natural, and 'Happiness' meaning the state of being at ease, connected and in flow. So we're saying that just like everything else in nature, happiness is our primal state.
But the thing is… the world today is a crazy place. We're living in unnatural times, which has resulted in most of us being disconnected from our natural state.
This show is designed to reconnect you!
Even if you've done so much self-help, personal development or self-improvement that you could write the book on them, you'll find this show is something completely different to anything you've come across before.
There's interviews and coaching sessions with well-known self-help, happiness or Three Principles experts - such as Supercoach Michael Neill, best-selling author Steve Chandler, Timber Hawkeye of Buddhist Bootcamp and Jamie Smart, the best-selling Clarity author - and they're all pointing the way back to true happiness.
We take people on an incredible journey to discover the fundamentals required to access our primal state. All without having to move to a planet that's not so crazy as ours. :)