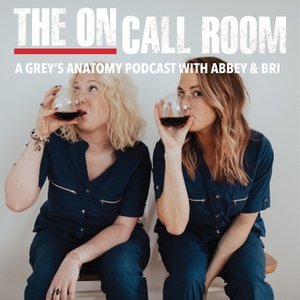 This week on the episode Abbey and Bri discuss their charts, what they are listening to and watching in pop culture. If you're sick of re-listening to The On Call Room, check on some of the podcasts they recommend.
Katie joins them to chat about Grey's. These two episodes Mark is licking chocolate off Teddy, and wanting to father Sloan's child. Mer and Derek are roll playing in the conference room, and Lexie will only have sex with Alex if he is nicer to her.
Speaking of Alex, we meet his brother and learn a whole bunch about his past. It is sad but helps us understand Alex a little bit more. Shit was messed up.
Other important points: Owen is in a dark place in the pit, and almost kissing Teddy in elevators. He doesn't fight for her to stay, but lies about it to everyone else. Also everyone is talking about wanting children...except Arizona. Looks like things might be getting complicated for her and Callie!
If you want only Grey's Content hit play at 26:51.
SPONSORS:
www.thisisaday.com
Use code OnCallRoomxADAY to get 20% off your first purchase!
________________________________________________
Become a sustaining member and cohost the show! Follow the link below:
www.patreon.com/theoncallroom