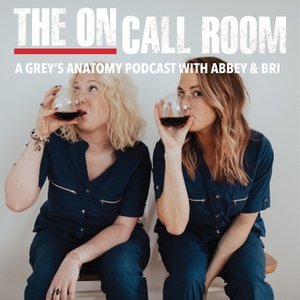 Ladies and gentlemen of The On Call Room, boy do we have some episodes for you! It is a two part episode discussing three episodes. Confused? So are we, but there is a lot packed into this epic story line of Ferry Boat murder, so your hosts dedicated two whole episodes to this plot.
On part one this week we discuss Meredith's storyline. Doesn't everyone remember Britney Spears music video, "Every time" where she is drowning in a bathtub? Shortly after this was released Britney shaved her head and ran around smashing cars with an umbrella. Similarly, Meredith was floating under water a little too long in the tub, and at the end of the episode she shaves her head and smashes a car with an umbrella. Not really, but she ACTUALLY does drown. I am not sure which is worse.
Derek of course jumps in the water swims her to shore (we don't get to actually see him swim her to shore, because logistically that would have been super difficult) and perform CPR on her. He gets shoved in a hall with Mark and cries, and then angrily strokes Ellis's hair and blames her for Meredith's breakdown.
Meanwhile, Meredith dies. No really, she dies and is in hospital purgatory with bomb squad and Denny trying to figure out why she "didn't swim". She's running around trying to save Bonnie from bleeding out and crying about never seeing Derek again. Ellis shows up, gives her big hugs and tells her "she is anything but ordinary". They encourage her to run towards the light, where Cristina is waiting for her. She awakes and has no brain damage. It is a miracle.
Stay tuned for next week's episode where Abbey and Bri dissect every other story line in this three part ferry boat massacre.
SPONSORS:
www.thisisaday.com
Use code OnCallRoomxADAY for 20% off your first order! DO IT!