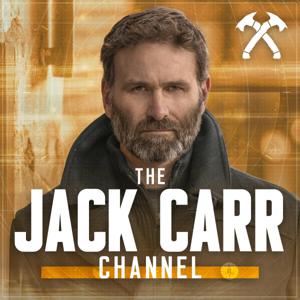 Note: This episode of Danger Close with Jack Carr first aired in June of 2021 in Season 1.  
Chris Ryan is a former member of the Special Air Service. He is the bestselling author of seventy fiction and non-fiction books including the Geordie Sharp series, Alpha Force, the Danny Black series and The One That Got Away, which details his experience on E&E (Escape & Evasion) during the 1991 Gulf War. The only member of his eight-man team to not be captured or killed, Chris evaded enemy patrols and survived over a 300 kilometer journey to the Syrian border. It was the longest escape and evasion in the history of the SAS. His book Strike Back was adapted into a TV series for the UK's Sky 1 and he helped create the action-drama TV series Ultimate Force. 
He's also hosted popular TV shows including Hunting Chris Ryan, Terror Alert: Could You Survive, How Not to Die, and Armed and Dangerous. You can check out his latest book, Outcast, here. 
In this episode, Jack and Chris discuss how Chris survived his 1991 experience in Iraq, his transition from the military into publishing and the importance of reading.  
Visit Chris' website: https://www.chrisryanauthor.co.uk/
Navy Federal Credit Union: Today's episode is presented by Navy Federal Credit Union. Learn more about them at navyfederal.org
Black Rifle Coffee Company: Today's episode is also brought to you by Black Rifle. Purchase at www.blackriflecoffee.com/dangerclose and use code: dangerclose20 at checkout for 20% off your purchase and your first coffee club order!
Featured Gear:
Today's featured gear segment is brought to you by by the online physical training program for backcountry athletes MTNTOUGH. MTNTOUGH is offering Danger Close listeners 20% off the all-new MTNTOUGH+ subscription with the code DANGERCLOSE when you sign up at mtntough.com
Christian Craighead OZ9 | ZEV Technologies
SKB Cases
Horse Soldier Bourbon
In the Blood by Jack Carr
The Terminal List (Chris Pratt cover edition) 
BRCC Sticker Club 
Grizzly Forge Steak Turner
Black Rifle Coffee 
Reagan Library Pen
Achter Knives Personal Defense Axe 
Ares Watches - Jack Carr Edition 
Auto Nation Illustration Stickers and Shirts