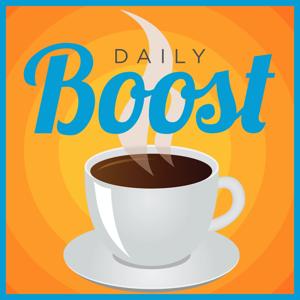 Daily Boost Motivation and Coaching
By scott smith
What's Daily Boost Motivation and Coaching about?
The Daily Boost gives you a positive boost of daily motivation and coaching to get you more success and happiness in life!
In less time then it takes to drink a cup of coffee, host Scott Smith delivers a lifetime of common sense wisdom to give you a BOOST of energy, a positive mindset, a belief that anything is possible—and the tools to make it happen.
Embedded within every Daily Boost is our STAND UP, TAKE A STEP, REPEAT framework. Daily listening will help you clarify what you want, create a roadmap to get there—and most importantly—stay motivated every day until you get it. No matter what gets in the way. 
Improve Productivity and Time Management. Break Bad Habits. Communicate Better. Enhance Relationships. And feel more grateful for everything around you. If it's part of your daily life, the Daily Boost will give you the knowledge, motivation, and coaching you need to build the life of your dreams.
If you're the kind of person who wants to become the best version of yourself and would enjoy a good conversation with a wise mentor, listen and follow the Daily Boost.