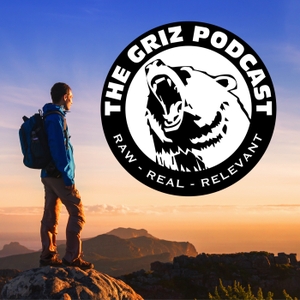 E-81: "Give Thanks in All Circumstances" ... Are You Serious God?
12.06.2019 - By THE GRIZ PODCAST
God commands us (His children) to give thanks in all circumstances - 1 Thess. 5:18 ... and that means even when life sucks. Dude, that's easier said than done.
Why would God say that? ...
Because it glorifies Him and He knows it also benefits us. Scientific research is actually proving this and Jason is beginning to experience it.
Here are some powerful takeaways from this episode ...
"No matter what is happening to us, we still have the power to choose how we respond."
"When we trust and obey even when it doesn't make sense to us ... even when it's the complete opposite of what we naturally "feel" like doing ... THAT'S REAL FAITH."
"Scientific research has revealed that the practice of gratitude literally rewires our brains to give us a happier mood."
"Other scientific studies have shown that routinely giving thanks also improves our sleep quality and reduces stress, anxiety, and depression. There's also research/evidence that shows that people who regularly gives thanks have less fatigue, less inflammation, and they even reduce their risk of heart failure (even for those who are more susceptible to that particular condition). I found it super fascinating that one of the neuro-chemicals associated with the practice of giving thanks is dopamine (the pleasure chemical)."
"Unintentionally, science has validated that God's Word (the Bible) is not some outdated book that has no application for modern man's complex mental, emotional, physical, and relational 'issues.'"
Research was done by Psychologists Dr. Robert Emmons of the University of California and Dr. Michael McCullough of the University of Miami - Link = https://dailyhealthpost.com/gratitude-rewires-brain-happier/?utm_source=link&utm_medium=fb&utm_campaign=sq&utm_content=dhp&fbclid=IwAR3qdC5M3PamYjK9IUmJ7R5u3ub9oASod5TNY4kyztQN4cFvJpfqzxu9Kps
Book mentioned = Mind Over Medicine by Dr. Lissa Rankin - Amazon Link = https://www.amazon.com/Mind-Over-Medicine-Scientific-Yourself/dp/1401939996/ref=asc_df_1401939996/?tag=hyprod-20&linkCode=df0&hvadid=312050258762&hvpos=1o1&hvnetw=g&hvrand=7497069314752698881&hvpone=&hvptwo=&hvqmt=&hvdev=c&hvdvcmdl=&hvlocint=&hvlocphy=9007728&hvtargid=pla-404766128599&psc=1&tag=&ref=&adgrpid=61316180879&hvpone=&hvptwo=&hvadid=312050258762&hvpos=1o1&hvnetw=g&hvrand=7497069314752698881&hvqmt=&hvdev=c&hvdvcmdl=&hvlocint=&hvlocphy=9007728&hvtargid=pla-404766128599
Stay pure online! Get your first 30-Days of Covenant Eyes Internet Accountability completely free just to try it out by signing up at www.CovenantEyes.com and using the promo code = GRIZZIN