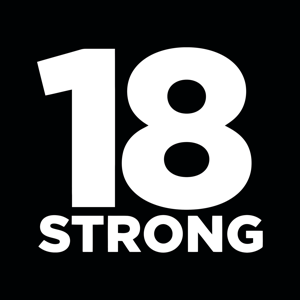 320: Ed MyLett [Revisited]: How to Build Confidence and Max Out Your Game
05.26.2021 - By The 18STRONG Podcast
We like to say that the 18Strong show is more than a golf and fitness podcast, and you're going to feel that exactly in this episode with Ed Mylett. Today, we are revisiting what I consider to be one of the most powerful interviews that we have ever done over the 300+ episodes of the 18STRONG Podcast.
For this week and possibly the next few weeks, I'm going to share a few of my personal favorite episodes. The ones that I tend to recommend over and over when I meet someone new.
Whether you're a new listener or have been with us for a long time, these are episodes that I personally go back to on a regular basis because there is simply so much gold in them. And this one in particular has probably had the biggest impact on me out of all of the interviews I have done.
Ed Mylett is one of the top performance, personal development, and business coaches in the world right now and this episode is simply a master class on building your self-confidence in everything that you do. From the golf course to the gym, to the rest of your life; Ed breaks it all down to one very simple concept that has literally changed how I view any new goal or challenge. People literally pay thousands of dollars to be able to get this much time with Ed and you get to hear him speak and coach for free here on the 18STRONG Podcast. Enjoy!
Ed Mylett's Background
* Ed Mylett grew up in Diamond Bar, CA. as the only boy in the family with three younger sisters. His father was his first example of what it takes to succeed in life.* Ed decided from a very young age that since he would have to work in life, he might as well work for himself and call his own shots. He realized right away that he was not going to spend his life working for someone else and building his or her dreams.* His wife Kristianna, who had been his sweetheart since they were teenagers, shared that same vision of life. Her father was an engineer who worked hard so her mother could stay home with her six children.* Mylett graduated from high school in Diamond Bar, California and attended the University of the Pacific in Stockton where he received a Bachelor of Arts degree in Communications. As a university student, Mylett balanced his studies in Communications with playing baseball for the NCAA Division 1 Pacific Tigers. He graduated from Pacific as a three-time All-American and the NCAA leader in stolen bases.* After graduating from college, he worked as a youth counselor for underprivileged boys.* In 2016, Mylett founded ED MYLETT SHOW, a Management Consulting Showbiz company located in Laguna Beach, California.* Mylett has been a business leader, peak performance expert, and a well-known keynote speaker in the business world. He coaches and mentors people in the business field. He has shared the stage and has very close personal relationships with other business legends such as Tony Robbins, John C. Maxwell, Phil Knight and many others.* In 2018, published the book #MAX OUT Your Life, A book on strategies for becoming an elite performer.
Highlights From This Episode:
* His background growing up, his business venture, how he started speaking to crowds, and his introduction to personal development at a young age that sparked his career.* They dynamic between him and his golfer son when they are out on the course: father to son, couch to athlete, and the major lesson he learned on the greens that revolutionized how he coached his son.* The idea of putting together little commitments, and utilizing fitness to both build your confidence and carry you to your goals. How being honest with yourself and setting physical goals that you can attain daily, weekly,