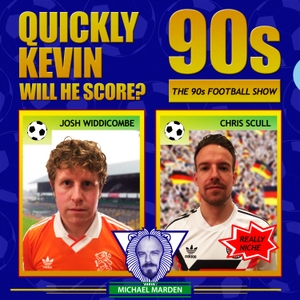 Quickly Kevin Will He Score? - S07 EP10 - Jamie Carragher
Joining us in the studio this week is Liverpool and England legend, Jamie Carragher.
We discuss Everton in the 80's and 90's. Lilleshall school of excellence. And exclusive to Quickly Kevin Fan Club members his thoughts on England managers in the 90's - including the infamous Keegan half time resignation and who the F.A. wanted to take over as caretaker. Listeners, it's a real sliding doors 'what if...'
Jamie's fantastic new book 'Greatest Games' is available now.
Become a QK Fan Club member at www.patreon.com/quicklykevin for access to extended episodes of the main series. As well as bonus episodes and free tickets to all the live zoom shows.
Thanks,
Chris, Josh and Michael.
Twitter: @quicklykevin
Facebook:quicklykevin
Instagram: quicklykevin
Email: [email protected]
 See acast.com/privacy for privacy and opt-out information.