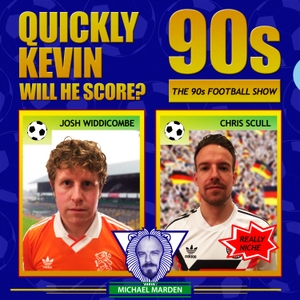 Quickly Kevin Will He Score? - S07 EP2: Jamie Redknapp (Part 2 of 2) 
** THIS IS PART 2 - IF YOU HAVEN'T ALREADY, PLEASE GO BACK AND LISTEN TO THE FIRST PART **
Joining us in the studio this week it's the Liverpool and England legend, Mr Jamie Redknapp.
Sorry to be the bearer of bad news, but it turns out Jamie didn't actually write the column he had in Smash Hits in the 90s'. It was ghost written. He never even read it. We feel like Woodward and Bernstein.
He does however tell us all about 'THAT' night out in the build up to Euro 96, and an astonishing tale of Don Hutchinson and Graeme Souness mixing it up on the training ground.
And the postbag contains Chris' all time favourite piece of correspondence. It's safe to say you'll never look at a Boost chocolate bar the same way again.
If you want to hear and extended version of the episode with Patreon only content (and get the episode on Saturday instead of Monday) then head over to patreon.com/quicklykevin to join the Quickly Kevin Fan Club*
Thanks,
Chris, Josh and Michael.
Twitter: @quicklykevin
Facebook:quicklykevin
Instagram: quicklykevin
Email: [email protected]
*much better than the Lee Sharpe fan club
 See acast.com/privacy for privacy and opt-out information.