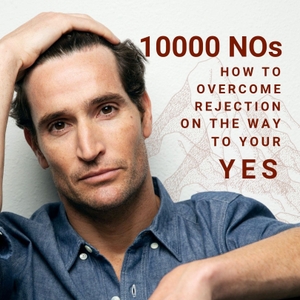 Jenny Mollen: Create the Story, Dictate the Outcome
04.09.2021 - By 10,000 NOs
Jenny Mollen is still an actor. But over the course of experiencing her 10,000 NOs she pivoted to also become a two-time New York Times Bestselling Author with another book on the way. One of her books is being turned into a film by Warner Brothers with Anne Hathaway attached to star. She's also really funny and irreverent. Her marriage to actor Jason Biggs causes uproarious laughter in cyberspace on a daily basis as the couple playfully jabs at one another relentlessly on Instagram and Twitter. If you want to laugh, and you're not afraid of a little "adult" language while learning about dealing with the hard knocks of Hollywood and the literary world, this episode is for you. It is not the critic who counts. If you've been knocked down... get up, dust yourself off, and get back in the arena. If you want to give back, share this with someone who could use it and leave a 5-star review on Apple Podcasts, or wherever you listen, so more people can find this show and benefit from these conversations. If you dig the show, click the link below for our new 10,000 NOs Insiders Community to learn how you can make this experience 3D by hopping on intimate, weekly Live video calls with Matt, including monthly drop-ins with some of his badass past-guests & VIP friends. SHOW LINKS: 10,000 NOs: THE BOOK JOIN THE 10,000 NOs TRIBE FOLLOW MATT ON SOCIAL 10,000 NOs INSIDERS
GUEST LINKS: INSTAGRAM (@JENNYMOLLEN) TWITTER (@JENNYANDTEETS) IMDB FILM/TV CREDITS WIKIPEDIA  
See acast.com/privacy for privacy and opt-out information.