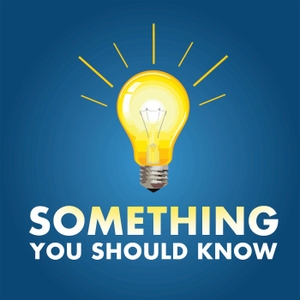 The Secret to Getting Everything Done & How to Optimize Your Brain for Peak Performance
07.29.2019 - By Something You Should Know
Pizza math. It's worth knowing because when you understand it, you'll realize why a small pizza is usually a lousy deal. This episode begins with a mathematical formula that will save you real dough on your next pizza. http://lifehacker.com/the-math-equation-that-explains-why-you-should-alwaysb-1784641566
How well do you organize, prioritize and execute your life? I bet you wish you were better at it – at least some of the time. World renowned productivity expert David Allen, author of the book Getting Things Done: The Art of Stress-Free Productivity (https://amzn.to/32Vr6Or) is here to offer some amazingly simple yet powerful ways to live and work more efficiently so you have plenty of time for you. 
Since so many people are dehydrated, listen and discover a quick way to tell if you are. This test requires nothing more than to pinch the skin on the back of your hand. http://www.livestrong.com/article/252621-how-to-tell-if-you-are-dehydrated/
Have you ever experienced brain fog? It's knowing that you are not performing at your best. A lot of things can contribute to it – including stress and diet – and there can be serious long term effects. Dr. Mike Dow, author of the books The Brain Fog Fix (https://amzn.to/3105nTG) and Your Subconscious Brain Can Change Your Life (https://amzn.to/2yl6u3W) joins me to discuss how to combat the feeling and optimize your brain to perform at its best. 
This Week's Sponsors
-Capterra. To find the best software solutions for your business for free, go to www.Capterra.com/something
-Stroke of Genius Podcast. Subscribe to Stroke of Genius on Apple Podcasts, at www.ipoef.org, or your favorite podcast platform.