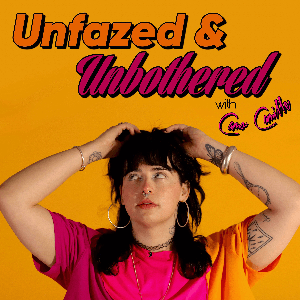 Unfazed and Unbothered with Camo Camille
By Camo Camille
What's Unfazed and Unbothered with Camo Camille about?
Millions of eyes watching, the pressure, the need to be engaging, funny, and relatable. Some days it's living your best life, some days it feels like a crushing burden. 
Camo exposes the reality of social media and the mental health struggles that come along with "being on." Challenging conventional thinking and the status quo, candidly opening up about their life experiences/trials they've faced, shamelessly. 
Camo is a content creator, singer/songwriter and the host of 'Unfazed & Unbothered,' the podcast where they rant, rave and ramble about any and everything from social media, mental health, sex, drugs and self discovery. Join Camo every Thursday for unscripted, no filter realness as she sips and spills on the latest!