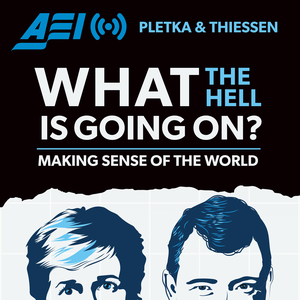 WTH is going on with Iran's attack on Saudi Arabia? Is the US headed for war (2.0)?
09.17.2019 - By What the Hell Is Going On

Two of Saudi Arabia's largest oil facilities were attacked on September 14, setting fire to and severely damaging the world's largest oil refinery. Yemen's Iran-backed Houthi rebels claimed responsibility for the strikes, but the US has said there is no evidence the attacks came from Yemen, instead blaming Iran. So who's really responsible? And should the US respond?
As world leaders try to make sense of the recent attacks, Dany and Marc sat down with Katherine Zimmerman to learn more about the different actors and rivalries in the region, and the Saudi and Iranian roles in Yemen's ongoing civil war. They also speculate over how the strikes will affect the US-Saudi alliance and already fragile US-Iran relations.
Katherine Zimmerman is a resident fellow at AEI and an adviser to AEI's Critical Threats Project. As AEI's senior analyst studying terrorist groups, she focuses on the global al Qaeda network and covers Salafi-jihadi movement and related trends in the Middle East and Africa. She also specializes in al Qaeda in the Arabian Peninsula and Yemen, al Shabaab in Somalia, and al Qaeda in the Sahel.