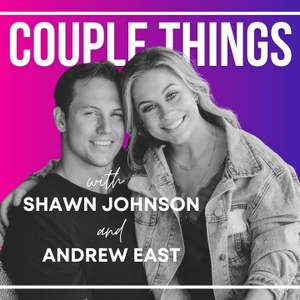 This week on Couple Things, we talked with Allison and Issac Rochell who just had the most dreamy wedding in Cabo. Our guests often bring up this topic during our conversations when asked what's helped their communication, so we wanted to dive deeper into the subject.
Here are a few topics that we cover:
Their wedding
How it feels to be married
Navigating the NFL lifestyle
Deciding to move in together
Being a multi-religious couple
Navigating being in an interracial couple
How they met
How Allison got started on Youtube
Their mission as a couple
Follow Issac on Instagram ▶ https://www.instagram.com/isaacrochell/?hl=en
Follow Allison on Instagram ▶ https://www.instagram.com/allisonkuch/?hl=en
Follow  @Allison Kuch on YouTube.
Check out Local Huma and The Do Good Foundation here ▶ https://www.instagram.com/local.human/?hl=en
If you haven't yet, please rate Couple Things and subscribe to hear more. Follow us on Instagram to keep the conversation going at https://www.instagram.com/couplething...​
And if you have suggestions/recommendations for the show, send us your ideas in a video format – we might just choose yours! Email us at [email protected]
We're supported by the following companies that we love! Check them out below:
Verb ▶ for a limited time, Verb is offering an exclusive deal to Couple Things listeners: they will ship you 4 of their best-selling flavors for FREE-- All you have to do is pay 95 cents for shipping. ONLY 95 CENTS! To claim this deal, you must go to www.verbenergy.com/EASTFAM
Harmless Harvest ▶ To learn more about Harmless Harvest Diary-Free yogurt, visit their website at http://www.harmlessharvest.com.
Zola ▶ Go to http://www.zola.com/couplethings today and use the promo code SAVE50 to get 50% off your save the dates. You can also get FREE personalized paper samples before you purchase.
FAN MAIL ADDRESS:
Shawn and Andrew East
750 N San Vicente Blvd.,
East Tower, 11th Floor,
Los Angles, CA 90069
Follow My Instagram ▶ http://www.instagram.com/ShawnJohnson...​
Like the Facebook page! ▶ http://www.facebook.com/ShawnJohnson​...​
Follow My Twitter ▶ http://www.twitter.com/ShawnJohnson​​​​​​
Snapchat! ▶ @ShawneyJ
Follow AndrewsTwitter ▶ http://www.twitter.com/AndrewDEast​​​​​​
Follow My Instagram ▶ http://www.instagram.com/AndrewDEast​...​
Like the Facebook page! ▶ http://www.facebook.com/AndrewDEast​​​​​​
Snapchat! ▶ @AndrewDEast
Learn more about your ad choices. Visit megaphone.fm/adchoices