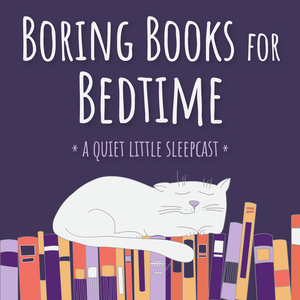 Boring Books for Bedtime
By Sharon Handy
What's Boring Books for Bedtime about?
Boring Books for Bedtime is a weekly podcast created for people who have trouble relaxing, shutting off that chattering brain, and getting to sleep.
Each episode is a reading of something that's rather boring, read in a rather boring way, to give your active mind something to focus on so you can just chill out and get some rest for once. Think relaxation, meditation, restfulness, and a touch of ASMR for those that dig that sort of thing.
All readings are taken from works in the public domain. If you'd like to suggest a copyright-free reading, catch us on Twitter @boringbookspod or on our Patreon. Just look for Boring Books for Bedtime. Enjoy!