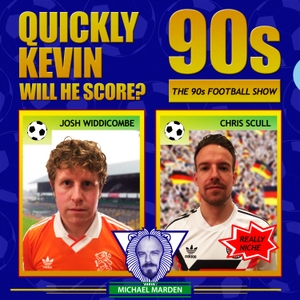 Quickly Kevin Will He Score? - S07 EP1: Welcome back...
WE. ARE. BACK.
And boy do we have an announcement for you. Yes, inspired by the wing wizard Lee Sharpe and his eponymous fan club we have decided to start our own Quickly Kevin Fan Club - the only place to be for extended, exclusive and mind blowing extra Quickly Kevin content. Including two extra episodes a month, free merchandise, ad free episodes, and much, much more*
Head over to patreon.com/quicklykevin to see what's in store!
Thanks,
Chris, Josh and Michael.
Twitter: @quicklykevin
Facebook:quicklykevin
Instagram: quicklykevin
Email: [email protected]
*main series will be available as always on all podcast platforms.
 See acast.com/privacy for privacy and opt-out information.