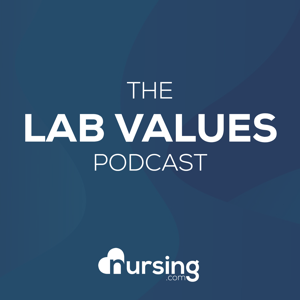 Lab Values Podcast by NURSING.com (Nursing Podcast, normal lab values for nurses for NCLEX®) by NURSING.com (NRSNG)
By Jon Haws RN: Critical Care Nurse & NCLEX Educator
What's Lab Values Podcast by NURSING.com (Nursing Podcast, normal lab values for nurses for NCLEX®) by NURSING.com (NRSNG) about?
By Jon Haws RN: Critical Care Nurse NCLEX Educator
Quick . . . is the aPTT within normal range? Are you sweating a bit? Nervous? Head over to NURSING.com/freebies for our free cheat sheet covering the 63 most important lab values for nurses. This podcast covers one essential lab value for episode including normal ranges, nursing considerations, and background information. Normal lab values are hard to keep straight. This show includes the most common including: Creatinine, WBC, BUN, aPTT, blood gasses, and more. Welcome to the Nursing family! For full disclaimer information visit nursing.com.