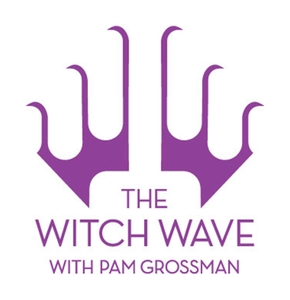 #35 - Pam Grossman's WAKING THE WITCH: The Witch Wave X Missing Witches Crossover Episode
06.05.2019 - By The Witch Wave
This is a special crossover episode between The Witch Wave and the Missing Witches podcasts in celebration of Pam's new book, WAKING THE WITCH: REFLECTIONS ON WOMEN, MAGIC, AND POWER.
Missing Witches is a research-based, feminist, occult storytelling podcast that goes looking for the witches we've been missing throughout history, and then shines the light on contemporary witches, too. This episode begins with Pam interviewing Missing Witches co-hosts Risa Dickens and Amy Torok, who are both artists, musicians, writers, and witches based outside of Montreal. Then the tables turn, and Pam answers questions from them about her new book.
On this episode, Pam, Risa, and Amy discuss how they each came to explore the witch archetype, the importance of maintaining the magic of youth, and the rise of intersectional feminist witchcraft.
Pam also talks about being guided by the goddess Artemis during a big life change, and answers listener questions about how to find a deity to work with.
Our sponsors for this episode are Weiser Books, Fat and the Moon, and Mithras Candle.