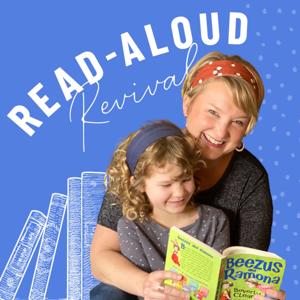 RAR #177: Teach Your Kids to Think Like a Scientist (with Books You Already Have)
04.20.2021 - By Read-Aloud Revival ®

Science is everywhere. It's in everything we do, everything we see. And yes, everything we read.
Books offer a delightful opportunity to talk about science, both through their illustrations and their text. We just need to know a few things to look for and a few questions to ask.
Today we'll find out how to think like a scientist, and how to teach our kids to do the same.
I invited two professors from St. Michael's College to teach us all about cross-cutting scientific concepts within picture books.
Dr. Valerie Bang-Jensen is the Department Chair and Professor of Education at St. Michael's College in Vermont. She's an expert in children's literature and literacy. Dr. Mark Lubkowitz is a molecular biologist and the Chair and Professor of Biology at St. Michael's.
In this episode, you'll hear:
* What it means to "think like a scientist"* How to find scientific concepts in every book you read* How to use cross-cutting concepts to teach young scientists of all ages
CLICK THE PLAY BUTTON TO START LISTENING:
TIME STAMPS:
"They can't get all of science from a book, but they can launch these ideas into every part of their life. Books are a perfect place to do that, because books are a microcosm of life."Dr. Valerie Bang-Jensen
"The secret is: scientists aren't smarter than everybody else. Scientists just have a way to classify and sort human thinking and behavior."Dr. Mark Lubkowitz
3:01What's a cross-cutting concept?4:55Introducing Mark and Valerie6:59The secret about science 7:48How it all began 12:34The delight of patterns 14:27Finding cross-cutting concepts in Owl Moon 20:21Scale and time in story 24:02Applying scientific concepts to books off your shelf27:19Structure and function 29:30Learning through questions31:43Let the Kids Speak
LINKS FROM THIS EPISODE:
* Dr Bang-Jensen and Dr Lubkowitz's Website * A 33-min video of Mark and Valerie explaining crosscutting concepts* Books in Bloom
YOU'LL ALSO ENJOY:
* Episode #62: Inspiring a Love of Nature Through Books with Greta Eskridge * Episode #103: Excellent Nonfiction Picture Books by Gail Gibbons* Episode #151: It's a Story… So What?