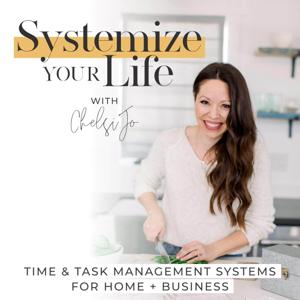 SYSTEMIZE YOUR LIFE | Routines, Schedules, Time Management, Time Blocking, Business Systems, Home Organization, Cleaning
By Chelsi Jo
What's SYSTEMIZE YOUR LIFE | Routines, Schedules, Time Management, Time Blocking, Business Systems, Home Organization, Cleaning about?
The GO TO PODCAST for Work From Home Moms!
Chelsi Jo is all about simplifying motherhood with step by step systems, so you can create more time and space for growing your business while raising your children intentionally.
She shares insanely simple approaches to reducing stress and anxiety, cultivating deep and meaningful relationships, getting consistent with making time for you, and learning to become the CEO of your motherhood and your business.
Chelsi Jo has been referred to as "your best friend in your pocket" because of her tell it like it is approach to guiding mommas through the messy in motherhood and the stress of working from home.
If you have been living in chronic overwhelm and aren't sure how much longer you can keep your head above water then you're in the right place! Chelsi believes that with systems you can be the mother God has called you to be AND grow the business of your dreams.....at the same time!!
Here on the podcast you will find systems for sustainable self care, productivity, home organization, and also systems for your business! Sprinkle in a few bonus episodes and deeply meaningful coaching sessions and you'll be binge listening before you know it.
You're absolutely goin to love the tangible tips and tricks that you can implement today to totally transform your work from home mom life here on Systemize Your Life with Chelsi Jo.
Learn // www.ChelsiJo.Co
Connect // @chelsijo.co
Work With Me // [email protected]