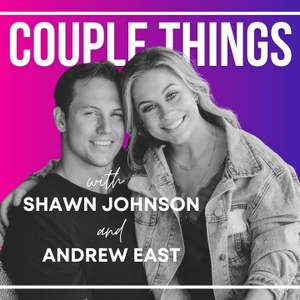 Listen to Shawn Johnson herself chat about the Olympics as we near opening ceremonies in just 3 days! She and Andrew give their thoughts on the long-awaited 2020 Tokyo Olympics!
ANDD....WE ARE GOING ON TOUR!! Check out the link below to see if we are coming to a city near you in 2022!
Click here to get your tickets now ▶ https://www.couplethingspod.com/
We are sponsored by these companies that we love. Check them out below: 
Care/Of: Couple Things listeners can get 50% off your first Care/of order. Simply go to www.takecareof.com and enter the code: COUPLETHINGS50
Zola: www.zola.com/couplethings use code SAVE50 to get 50% off your save-the-dates! For peace of mind, you'll receive FREE change-the-dates with your purchase!
If you haven't yet, please rate Couple Things and subscribe to hear more. Follow us on Instagram to keep the conversation going at https://www.instagram.com/couplething...
And if you have suggestions/recommendations for the show, send us your ideas in a video format – we might just choose yours! Email us at [email protected]
Subscribe for more! http://bit.ly/3rnOdNo
Follow My Instagram ▶ http://www.instagram.com/ShawnJohnson
Like the Facebook page! ▶ http://www.facebook.com/ShawnJohnson
Follow My Twitter ▶ http://www.twitter.com/ShawnJohnson
Snapchat! ▶ @ShawneyJ
Follow AndrewsTwitter ▶ http://www.twitter.com/AndrewDEast
Follow My Instagram ▶ http://www.instagram.com/AndrewDEast
Like the Facebook page! ▶ http://www.facebook.com/AndrewDEast
Snapchat! ▶ @AndrewDEast
Learn more about your ad choices. Visit megaphone.fm/adchoices