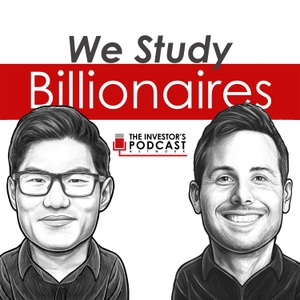 In this episode, you'll learn:The group's intrinsic value assessment of $HPQ, $FONR, $SH, and $HDBWhy Preston is shorting the S&P500If banks in India is a bull caseHow you can divide the stock market into four states, and how to position yourself accordingly
Important Links:
Download your free audio book at Audible.
Find the best job candidate at Ziprecruiter.
Create original investment research with INVRS.
Move your business to the cloud with Netsuite.
Get access to the future of real estate investing with Fundrise.
Move your business forward with TripActions.
Explore a mobile plan that can change as your business does with Telstra.
Preston and Stig's free resource, Intrinsic Value Index
Preston and Stig's Intrinsic Value Assessment of Fonar that was discussed in this episode
Subscribe to Preston and Stig's free Intrinsic Value Assessments
Tobias Carlisle's article about shorting the market
Tobias Carlisle's book, The Acquirer's Multiple – read reviews of this book
Tobias Carlisle's Acquirer's Multiple stock screener: AcquirersMultiple.com 
Tweet directly to Tobias Carlisle:
Hari's Blog: BitsBusiness.com
Tweet directly to Hari: @harirama