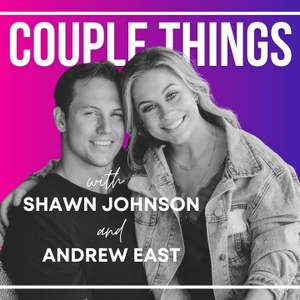 This month on Couple Things, we are going to talk about topics that highlight Mental Health Awareness Month.
This week, we are talking about eating disorders, addiction, and walking through those things with a partner. Shawn talks about her story and struggles with her mental health and how she and Andrew walk through them together.
Here are a few topics that we cover:
Shawn's story
A turning point
Bringing an addiction into a relationship
The day to day with an eating disorder
Andrew and Shawn's first date
When Shawn started to get help
Understanding the core person that you're in a relationship with
Shawn's view of mental health
Trying to understand the addiction as the partner
Is addiction nature vs nurture?
Shawn facing it in the spotlight
How gymnastics is judged
Shawn's healing journey
The first time Shawn told Andrew
How you can walk with your partner through mental health struggles
Asking for help
How Shawn's addictions changed
Athletes and mental illness
Who should go to therapy?
If you are struggling with anything or want to talk to a therapist, please find the help that you need. Here are a few places to start:
Online Therapy with Betterhelp ▶ https://www.betterhelp.com/
Eating Disorder Helpline ▶ https://www.nationaleatingdisorders.org/help-support/contact-helpline
More resources with To Write Love on Her Arms ▶ https://twloha.com/find-help/
You are loved. You have a purpose. Thank you for being here.
If you haven't yet, please rate Couple Things and subscribe to hear more. Follow us on Instagram to keep the conversation going at https://www.instagram.com/couplething...​
And if you have suggestions/recommendations for the show, send us your ideas in a video format – we might just choose yours! Email us at [email protected]
We're supported by the following companies that we love! Check them out below:
Care/of ▶ We're excited to offer Couple Things, listeners, 50% off your first Care/of order. Simply go to https://wwwTakeCareOf.com and enter the code couplethings50.
ButcherBox ▶ You can get the Essentials Bundle: that includes Chicken Breast, Pork Chops + Ground Beef free in the first box! Simply visit https://wwwButcherBox.com/couple to get started with Butcher Box today!
FAN MAIL ADDRESS:
Shawn and Andrew East
750 N San Vicente Blvd.,
East Tower, 11th Floor,
Los Angles, CA 90069
Follow My Instagram ▶ http://www.instagram.com/ShawnJohnson...​
Like the Facebook page! ▶ http://www.facebook.com/ShawnJohnson​...​
Follow My Twitter ▶ http://www.twitter.com/ShawnJohnson​​​​​​
Snapchat! ▶ @ShawneyJ
Follow AndrewsTwitter ▶ http://www.twitter.com/AndrewDEast​​​​​​
Follow My Instagram ▶ http://www.instagram.com/AndrewDEast​...​
Like the Facebook page! ▶ http://www.facebook.com/AndrewDEast​​​​​​
Snapchat! ▶ @AndrewDEast
Learn more about your ad choices. Visit megaphone.fm/adchoices