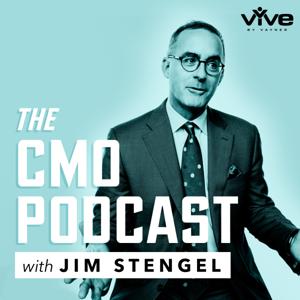 On this episode of The CMO Podcast, Jim Stengel recaps this year's Cannes Lions International Festival of Creativity, with a panel of remarkable guests. This episode was recorded over a Zoom session organized by VaynerMedia with roughly 150 marketers in attendance. A big thanks to Suzanne Fanning from Wisconson Cheese for sending participants a wonderful cheese spread for this virtual event, and Gary Vaynerchuk for sending a bottle of Empathy Wine to pair with it. 
First, we hear from Steve Latham, the Head of Talent & Training at Cannes Lions International Festival of Creativity, for an overview of the five-day virtual event. Then, Jim chats about some major takeaways from the event with Pedro Earp from Anheuser-Busch InBev, Hana McTaggart from Loon, Shannon Taylor from Procter & Gamble, Amanda Rassi from The Kroger Co., Garrett McGuire from Merrell and Gary Vaynerchuk from VaynerX and VaynerMedia.
If you have any questions or are interested in signing up for the Cannes Lions CMO Accelerator program, please email Steve Latham at [email protected]
Support our sponsor Deloitte and experience their guidance on resilience for brands in navigating the COVID-19 pandemic. Learn more at Deloitte.com.
See Privacy Policy at https://art19.com/privacy and California Privacy Notice at https://art19.com/privacy#do-not-sell-my-info.