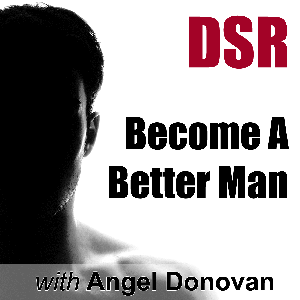 In this episode JAIYA gives advice on:
- Jaiya's background and relationship lifestyle (02:57)
- The experiences in Jaiya's life that started her sexuality journey - healer, heal thyself (03:52)
- Jaiya's approach to teaching others as a somatic sexologist (the combining of somatics and sexology - as well as Tantra, Taoism, shamanism, yoga, and meditation - in order to experience greater awareness through the body) (07:40)
- Setting goals on the journey of sexuality: the sexual blueprint and its five erotic types (09:46)
- Discovering your erotic type blueprint and possibly transitioning to a type that may be better for you (17:53)
- Do some men chase women that are not the sexual blueprint type for them? (25:43)
- Bio-energetics: 1) what is happening on the cellular level, and 2) how sensitive we are energetically. More importantly, the energetics we put out into the world - our polarity (the masculine and feminine dynamic) (27:58)
- Jaiya's approach and evolvement: the truth of what's happening in the body (30:39)
- Disagreeing with a lot of the research (because it's not from a hands-on felt experience) of what is truly happening in the body in arousal and/or orgasmic states (32:44)
- The benefits of exploring and expanding your sexuality (34:55)
- Are men not enjoying sex because they have a disconnection from it, a disconnection from awareness? (37:18)
- Partners that are different sexual types who come together to expand their sexuality (39:05)
- Exercises and steps to becoming self-aware when nervous about your sexuality: changing your mindset (42:40)
- How working on your sex life makes a beneficial impact in other areas of your life (46:50)
- The difference between resistance and sexual boundaries (48:45)
- Unique approaches to female sexual pleasure (55:57)
- Female ejaculation, whether it's beneficial to women, and if this should be a focus area for men (01:00:51)
- Best way to connect with Jaiya
GET MORE: Show Notes & Resources, Interview Transcript and Comments.
HELP ME SPREAD THE WORD!
Think this episode was Kick-Ass?
An iTunes review would be SO appreciated! This is what helps me stand out so I can help more men like you.
Click here to review the show.
FEEDBACK
Hit me up with your comments and guest suggestions. I read EVERYTHING.
• Email: [email protected]
• Get my newsletter: Click here to get my Newsletter
• Got a question? Drop it in our voicemail to get it answered: 323.747.5006
MORE FREE STUFF:
• Get the Fast Track Dating System
• Get Monster Brain Dump from our Editorial Team on Top Advice of All Time