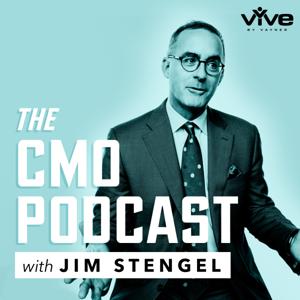 DE&I | Charisse Hughes (Kellogg) & Stacy Kemp (Deloitte)
11.08.2021 - By The CMO Podcast
In this episode of The CMO Podcast's DE&I mini-series, Jim is joined by Charisse Hughes, SVP & Global CMO at Kellogg Company, and Stacy Kemp, Principal/Partner at Deloitte.
In this conversation, Charisse and Stacy discuss the importance of diversity, equity and inclusion. They discuss how Kellogg Company is focusing on how to implement DE&I across the entire organization and why authenticity matters—plus, how looking inward at Kellogg Company's DE&I goals made the brand's offerings and engagement more diverse.
The CMO Podcast's DE&I mini-series is brought to you in partnership with Deloitte Digital and their new offering, Ethos. At Ethos, we work alongside the world's leading business leaders to create purpose-driven innovations that connect your brand's purpose with your audience's priorities. To learn more about Ethos, www.deloittedigital.com/ethos.
See Privacy Policy at https://art19.com/privacy and California Privacy Notice at https://art19.com/privacy#do-not-sell-my-info.