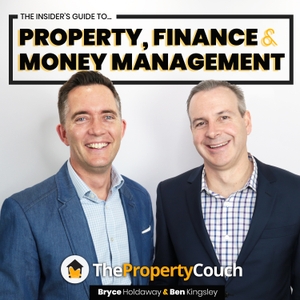 Ep. 239 | From Working-Class to Multimillion Dollar Philanthropist: How This AFL Royalty Mastered The Art of Delayed Gratification - Chat with Susan Alberti
07.04.2019 - By The Property Couch

What's a footy oval and a VERY
successful investor got in common?
… none other than one gutsy,
72-year-old woman… Susan
Alberti!!
For the folks who aren't quite into AFL like we are, Susan is not only Football Royalty down here in Melbourne — particularly when it comes to the AFL Western Bulldogs Football Club and opening up the sport to women players… but also, Susan has lived an EXTREMELY incredible life… she's experienced everything from very humble beginnings, unspeakable tragedies, not being able to get a loan as a woman (yep), the heights of true accomplishment (see all of the positions she's held here – 'cos there's more than a few!) and giving back in a way that is profound and unbelievably inspiring — all of which has been documented in The Trailblazing Story of Susan Alberti – The Footy Lady.
She is living proof that hard work,
investing and delayed
gratification pays off and is, of
course, as respected as they come.
To give you an idea, not only is "Sue" one of Australia's pre-eminent philanthropists, having donated millions of dollars to medical research and other charitable causes — when her only child, Danielle, was diagnosed with type 1 diabetes and later passed away due to the illness, Sue embarked on a global mission to find a cure, and is now Chair of the Susan Alberti Medical Research Foundation. And earlier, when her first husband was killed by a truck, Susan took over their construction business and discovered firsthand how to survive and prosper in what was very much a man's world. Oh, and she's also the 2018 Victorian of the Year, 2017 Melburnian of the Year and 2018 Victorian State Government Outstanding Contribution to Sport Award!
Basically… this woman has stared down
adversity of all kinds and prevailed beyond doubt.
So, if you're like us and are very
excited to hear what this wise and wonderful woman has to say about investing
and, indeed, life… then you MUST check this episode out, folks!
Also, special shout out to our
listener Jill Stewart for suggesting such an awesome guest!! If you've got a
guest idea yourself, feel free to let us know who you
want to hear from HERE