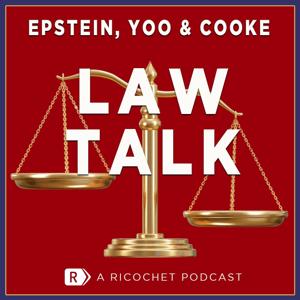 It may be graduation season, but the faculty lounge is still open for business and professors Richard Epstein and John Yoo are holding court. This time around: What does the Inspector General's report really tell us about James Comey's tenure at the FBI? Was the North Korea summit a diplomatic breakthrough or an unforced error? What on earth does the Masterpiece Cakeshop case mean for religious liberty? Is Texas about to undo Obamacare? And could a plan to split California into three new states really pass constitutional muster?
All that plus the longest lightning round ever, Donald Trump's plan for San Francisco's involuntary secession, and a final appreciation of Charles Krauthammer.
Sponsored by Lending Club, Quip, RXBAR
Join the conversation and comment on this podcast episode: https://ricochet.com/podcast/law-talk/have-your-cake/.
Podcast listeners: Now become a Ricochet member for only $2.50 a month! Join and see what you've been missing: https://ricochet.com/join/.
Subscribe to Law Talk With Epstein, Yoo & Senik in iTunes (and leave a 5-star review, please!), or by RSS feed. For all our podcasts in one place, subscribe to the Ricochet Audio Network Superfeed in iTunes or by RSS feed.