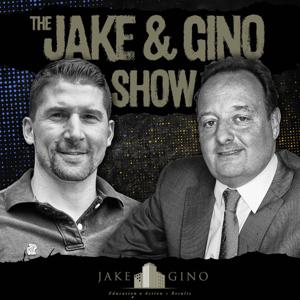 Jake and Gino Multifamily Investing Entrepreneurs
By Jake & Gino
What's Jake and Gino Multifamily Investing Entrepreneurs about?
The Jake and Gino show is all about providing entrepreneurs and business leaders who have a "Make It Happen' attitude with the tools and knowledge to create, build and achieve long term success. Each week Jake Stenziano and Gino Barbaro sit down with some of today's leading thought leaders like Sharon Lechter, Nir Eyal, & Hal Elrod, to dish out advice, helpful tips and even some tough truths.

Your hosts, Jake & Gino, are experienced entrepreneurs and experts in multifamily real estate investing and education. They have achieved their goals of financial freedom by hands-on doing, and the only thing they love more than Multifamily Real Estate (and their families) is being able to share their experience and knowledge with others.
Also included under The Jake & Gino umbrella:
The Julia and Gino Show: Where business and family meet. Julia & her husband Gino focus on spousal relationships, communication and how those can successfully co-exist with business.
Rand CRE: Host Mike Taravella interviews top experts in commercial real estate with the goal of providing listeners with actionable content that they can use to scale their business.
The 100 Year: Jake & Gino discuss longtermism and how to implement the Dual Asset Strategy®.
Movers and Shakers: Hosts Gino Barbaro & Josh Roosen interview Jake & Gino students who are closing deals and becoming experts in the Multifamily Space.
Whether you are interested in multifamily strategies like syndication & scaling your portfolio, or you are an entrepreneur with a growth mindset for personal development and building your business, then our shows are for you.

Our mission is to create Multifamily Entrepreneurs!