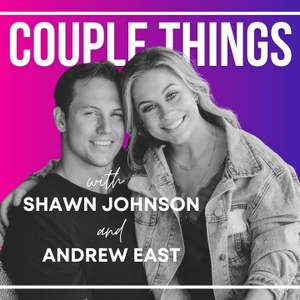 Today in episode 41 of Couple Things with Shawn and Andrew, we chat with some new friends of ours, Jessica and Cody Nickson.
Jessica and Cody just welcomed their second little baby girl and were only just pregnant with her when we had this conversation several months ago - so things have changed for this growing family quite a bit! We discuss their past lives on Big Brother & Amazing Race and go into detail talking about what it's like raising a family in the spotlight. This was a really fun & dynamic conversation that we're excited to bring you.
If you haven't yet, please rate Couple Things and subscribe to hear more. And if you have suggestions/recommendations for the show, send us your ideas in a video format – we might just choose yours! Email us at [email protected]
Last but not least, learn more about Jessica, Cody, and all they do at the links below.
–––
Follow @thejessicanickson on IG ▶ https://www.instagram.com/TheJessicaNickson/?hl=en
Follow @codythemarine on IG ▶ https://www.instagram.com/CodyTheMarine/?hl=en
Now What!? podcast ▶ https://www.podcastone.com/now-what-with-jessica-nickson
Couples Coffee Co ▶ https://couplescoffee.com/
Subscribe on YouTube ▶  @Jessica and Cody Nickson 
–––
We're supported by the following companies we love! Make sure to check them out using our links below.
Duracell! ▶ We are SO Proud to partner with Duracell on this initiative. Head to https://Duracell.com to learn more.
Function Of! ▶ Go to https://FunctionofBeauty.com/eastfam for 20% off and to let them know you heard about it from our show.
Learn more about your ad choices. Visit megaphone.fm/adchoices