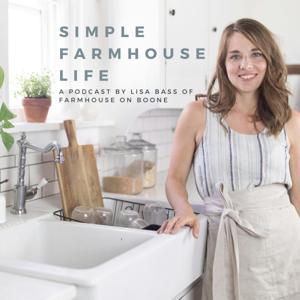 129. Learning Old-Fashioned Skills | Carolyn Thomas of Homesteading Family
04.21.2022 - By Simple Farmhouse Life
When diving into the world of homesteading, it can quickly become overwhelming when you realize just how many skills there are to learn.  Where should you start?  I'm so glad Carolyn of Homesteading Family joined me for this conversation.  As a long-time homesteader and mother of 10, Carolyn shares how she got started building her skillset to support the homesteading lifestyle she desired for herself and her family.  Carolyn is a wealth of information, and she is passionate about teaching others how to live this beautiful way of life, too.
In this episode, we cover:
- The most important old-fashioned skills in 2022
- Why learning new skills is actually easier than you think
- How to fit in learning new skills when you are already maxed out
- The benefits of saying no to convenience
- What our children gain from growing up in a homesteading lifestyle
- A few areas where we choose the convenient route
- The one thing to get in order before you start learning old-fashioned skills
RESOURCES
The Abundant Pantry: Canning | 25% off your purchase of this canning course using code FARMHOUSE
Also check out The Abundant Pantry: Preserving Eggs
View all Homesteading Family classes
Find full list of resources mentioned
CONNECT
Carolyn Thomas of Homesteading Family | Website | YouTube | Podcast | Instagram | Facebook | Pinterest
Lisa Bass of Farmhouse on Boone | Blog | YouTube | Instagram | TikTok | Facebook | Pinterest
Join us in the Simple Farmhouse Life Facebook community!
GET MORE FROM THIS EPISODE
Watch this episode on YouTube.
View full show notes and transcript on the blog.