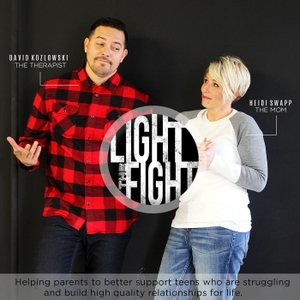 Light The Fight
By Elevate Podcasting
What's Light The Fight about?
Heidi Swapp, mother, entrepreneur and influencer of woman. Teams up with David Kozlowski Licensed marriage and family therapist to bring you a podcast that discusses all topics related to personal and family relationships.
This unlikely duo was brought together by the death of Heidi's son Cory, who passed away by suicide in July of 2015.
Heidi and David discuss the most valuable things that have helped her these past couple years, along with questions from her followers that are looking for tools to improve their personal and family relationships. Heidi is not your typical mom and David is not your typical therapist. Their unique combination of comical banter, relatable information and honest expression of personal experiences. Makes this show a must listen for moms and dads needing help but not wanting to fall asleep while listening to another self-help podcast.