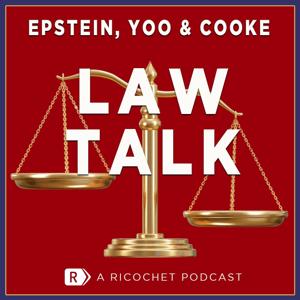 The faculty lounge has reopened and Professors Richard Epstein and John Yoo are colluding to bring you top-shelf legal analysis. On this installment: is the Mueller Report vindication of President Trump or the predicate for impeachment? Can the White House resist congressional subpoenas? Can congressional Democrats (or a wily coalition of state governments) force the […]
Sponsored by DonorsTrust
Join the conversation and comment on this podcast episode: https://ricochet.com/podcast/law-talk/parking-strictly-enforced/.
Now become a Ricochet member for only $5.00 a month! Join and see what you've been missing: https://ricochet.com/membership/.
Subscribe to Law Talk With Epstein, Yoo & Senik in Apple Podcasts (and leave a 5-star review, please!), or by RSS feed. For all our podcasts in one place, subscribe to the Ricochet Audio Network Superfeed in Apple Podcasts or by RSS feed.