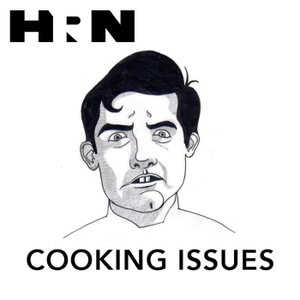 Paying for it in Farts and Funny (feat. Ed Cornell of Milkcult)
07.29.2020 - By Cooking Issues
On this Episode of Construction Issues Dave, Nastassia, and The Rest are joined by Ed Cornell of Milkcult. First up, Nastassia reports on her time at Chappelle's Summer Camp and she regales us with her highly successful fishing adventures. Then they dive into the ins and outs of consumer packaged goods, how to feel about various scams, and when to be skeptical of budget equipment online. Plus, Popsicles! Backpacking meals! Ice Cream Sandwiches!
Have a question for Cooking Issues? Send us a voicememo while we're all social distancing or ask in the chatroom. 
In March, HRN began producing all of our 35 weekly shows from our homes all around the country. It was hard work stepping away from our little recording studio, but we know that you rely on HRN to share resources and important stories from the world of food each week. It's been a tough year for all of us, but right now HRN is asking for your help. Every dollar that listeners give to HRN provides essential support to keep our mics on. We've got some fresh new thank you gifts available, like our limited edition bandanas.
Keep Cooking Issues on the air, become an HRN Member today! Go to heritageradionetwork.org/donate.