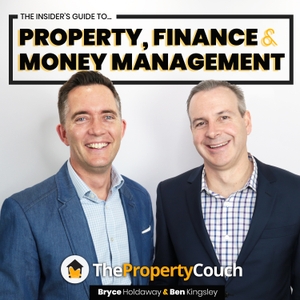 Ep. 237 | Q&A: Barefoot Investor or Money Smarts - What's the difference, Loan Structure for Rentvestors, Pros & Cons of Buying a Company Title Property and more!
06.20.2019 - By The Property Couch

Folks, we've got your voicemail
messages… and, yep, today we're giving you our reply!
'Cos it's out favourite day of the
month… Q&A; Day where we answer YOUR SpeakPipe
Questions! And, we've gotta
admit… a few of you folks have asked us about "The Elephant in The Room"… aka… a
certain Barefoot Investor and how Scott Pape's money management differs from our Money
SMARTS system. Oh, and of
course, there's also some contrasting views on property as a long term
investment as well… which, as you likely know, is something we're pretty keen
on…
So let's tackle the answer, shall
we??
Before
we get into your questions, here's the resources mentioned today…
* CoreLogic's Auction Clearance Rate Bounce* TPC Live — Last Day TOMORROW Friday 21st June (GET FULL DETAILS) * Free Copy of Make Money Simple Again — Choose Your Adventure!
Question from David on the Barefoot Investor…
Hey guys, Dave here. Today I wanted
to talk about the Elephant in The Room… or at least the bear in the room. I
have just finished listening to the Barefoot Investor audiobook — and it's
safe to say I'm am a little bit confused. While Scott's money management method
seems to align with yourselves, "Mojo" and "Fire Extinguishers"
are a far cry from Money
SMARTS. And then came a bomb shell…
"Property Investing is a Dud
Investment" and, yes, as he suggested, my eye was twitching.
Scott had some pretty negative
things to say about property,
particularly over the long term.
Mainly because the last 24 years has been an economic outlie, given the
negative gearing benefits and large pop growth due to baby boomers, suggesting
that "doubling in 7 – 10 years" rule, which of course is a rule of thumb,
over the next 40 years would be near-on impossible. Then he counteracted his
whole argument with compelling evidence of strong long term growth in bonds,
shares and index funds. Now, don't get me
wrong, I took some really good nuggets out of his book, but the differences
between your method and his are STARKLY different. I mean, he doesn't even
suggest putting money in offsets. Can you please help me decipher this book?
Thanks guys, love your work.
Question
from Shane on buying a unit in a company trust…