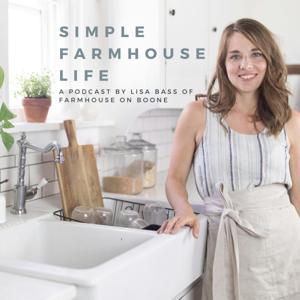 127. Starting a Farm When You Didn't Grow Up on One | Jess Sowards of Roots and Refuge Farm
04.07.2022 - By Simple Farmhouse Life
Many people think that beginning a farm or homestead requires you to have previous farming experience, but this isn't necessarily true.  Even if you have never set foot on a farm yourself, it is possible to begin living the homesteading lifestyle.  In this episode, Jess shares how her lifelong dream of owning a farm became a reality, one step at a time.  We also delve into the topic of making money on a homestead.  Whether you have a goal of replacing your full-time income or of simply allowing your homestead to pay for itself, Jess has some really interesting entrepreneurial ideas!
In this episode, we cover:
Starting to live a homesteading lifestyle even without acreage
Nurturing a healthy food culture in your home
The connection between food and homesteading
Exciting upcoming developments for Roots & Refuge Farm
How a homestead can pay for itself
Thank you to our sponsor!  Toups and Co Organics uses nourishing, organic ingredients to create simple and safe skincare products.  Toups and Co is offering my listeners 10% off any one purchase with the code FARMHOUSE.  Visit ToupsandCo.com to order today.
Check out some of my current favorite products: seabuckthorn cleansing oil, frankincense face balm, activated charcoal face bar
RESOURCES
Making Money on a Homestead | How a Hobby Farm Can Help Pay for Itself
CONNECT
Jess Sowards of Roots and Refuge Farm | Website | YouTube | Instagram | Facebook
Lisa Bass of Farmhouse on Boone | Blog | YouTube | Instagram | TikTok | Facebook | Pinterest
Join us in the Simple Farmhouse Life Facebook community!
GET MORE FROM THIS EPISODE
Watch this episode on YouTube.
View full show notes and transcript on the blog.